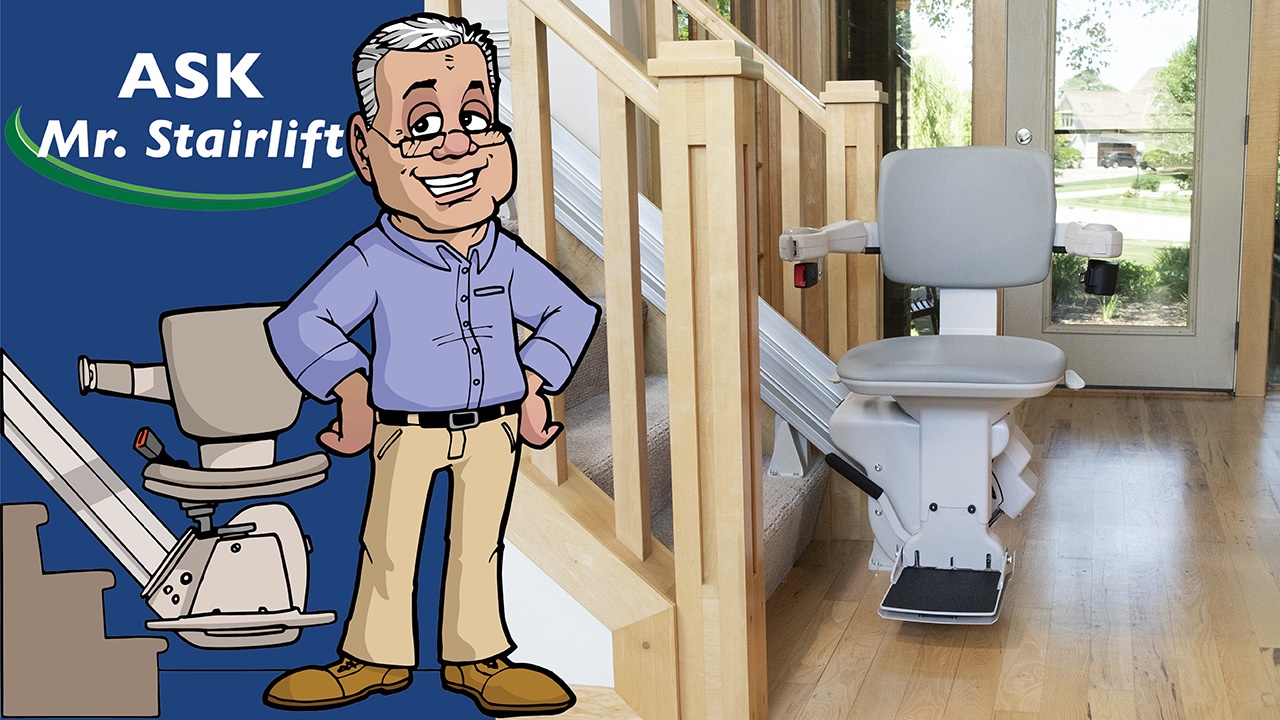 Rail Design. Bruno stair lifts feature a uniquely designed vertical stairlift rail with a hidden gear rack. This design provides an attractive appearance, reduces exposure to grease and dirt, and maximizes open space on the steps.

Customization. The ability to personalize a stairlift to individual needs helps separate the best stairlift brands from others. Bruno allows for a multitude of options on indoor stairlifts, including power swivel seat, power footrest, manual and power folding rail, and more.

Support & Reliability. Bruno boasts the nation's largest factory-trained stairlift dealer network, so it's easy to find a Bruno dealer serving your community. We pair dealer expertise with a Limited Lifetime Warranty on indoor straight stairlifts to deliver peace of mind now and in the future.
Best Stair Lifts
 | 
Basic Straight Indoor Stairs
Recommended Model: Elan Straight Stair Lift. The Elan is the most popular choice for standard straight staircases (usually 13-16 steps). With a 300-lb lift capacity, modern styling and a Limited Lifetime Warranty, the Bruno Elan gives years of reliable service at an affordable cost. 

While many people find a standard Elan straigth indoor stairlift best fits their needs, it is capable of being further personalized. In addition to an optional folding rail - which is ideal for when a rail at the bottom of the stairs may cause an obstruction - the Elan also offers optional power folding footrest and a power swivel seat.
 
The Elan straight indoor stairlift is also popular for straight indoor stairways because the rail takes up less space than any stairlift on the market. Bruno's unique vertical rail installs close to the wall and maximizes open space on the steps. The rail's covered gear rack delivers a sleek appearance and reduces exposure to grease or dirt.
 
Best Stair Lifts
 | 
High Capacity & Comfort
Recommended Model: Elite Straight Stair Lift. Backed by a Limited Lifetime Warranty, Bruno also offers the high-performance, high-capacity Elite indoor straight stairlift. People who desire exceptional engineering combined with maximum adjustability find the Bruno Elite indoor straight model the best stairlift for their needs.
A generously-sized seat and the ability to adjust the chair to fit one's body type are the top reasons cited for high marks for the Bruno Elite. The Elite features a heavy-duty motor to support the 400-lb lift capacity. In addition to the superior engineering, people equally enjoy the premium styling and comfort.
The Elite straight indoor model is also the best stair lift for users who desire extra customization. An extra-large seat and footrest, power footrest, power swivel seat and a folding rail are all popular options. Multiple fabric colors allow further personalization of the Elite straight.
Best Stair Lifts
 | 
Curved Indoor Staircases
Best Stair Lifts
 | 
Straight Outdoor Stairways
Recommended Model: Elite Straight Outdoor Stair Lift. Overall engineering considerations are key when determining the best stair lift for outdoor straight staircases. Bruno's Elite outdoor stairlift is our recommendation for exterior straight staircases due to its weather-resistant materials and performance design.

Bruno's Elite straight outdoor stairlift can withstand harsh weather (0° - 125 °F) thanks to durable outdoor painted steel surfaces, marine-grade vinyl cushioned seat and a waterproof cover.
With a 400-lb lift capacity, the top-rated Elite straight outdoor stairlift is heavy duty, yet comfortable. The chair delivers premium features like a generously-sized seat with adjustable seat and footrest height and space between armrests, plus obstruction sensing safety technology.
Best Stair Lifts
 | 
Curved Outdoor Steps
Recommended Model: Elite Curved Outdoor Stair Lift. Bruno's Elite is the best stair lift for staircases that curve. It's also the best-selling exterior curved stairlift in North America. The Bruno Elite curved outdoor stair lift gives dependable year-round performance from 0° - 125° F, with durable outdoor paint used on all steel surfaces while marine-grade vinyl is used on the chair of the stairlift.
Unique to any stairlift manufacturer, Bruno handcrafts its rail to ensure the best fit and ride quality - especially for staircases with angle changes. The handcrafted vertical rail allows maximum open space on the steps and features a covered gear rack to eliminate exposure to dirt.
Featuring a 400-lb lift capacity, the Bruno Elite curved outdoor stairlift combines Made in America quality and reliability.
Stairlift Reviews
 | 
Why Are They Important?
Verified stair lift owner reviews can be an effective means to determine stairlift brand and model quality. When researching online reviews, Bruno recommends customers note the following:
Third-Party Collection. To ensure authenticity, online reviews should be collected through an impartial, third-party review site such as Trustpilot or Google.

Volume & Time Space. Total number of reviews is important to instill the highest degree of confidence. Posted reviews should be consistent over time, so beware of brands with red flags such as many reviews over a short period but limited recent reviews.

Geographic Location. If the review platform displays locations, they should represent a wide variety of areas across the country - not a single region.
We encourage everyone to read our stair lift reviews to see what verified customers have to say about their Bruno stairlifts.