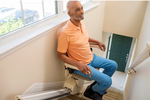 Stairlifts Near Me & Finding Stairlift Dealers
, by Richard Spafford, 1 min reading time
Not Everyone in the Country can use USA Medical Supply in West Springfield, MA for their stairlift needs. If you can't, be sure to follow the guidelines below when researching. 
Search Online: A quick online search for "stairlifts near me" or "stairlift companies near me" can help you find local businesses that offer stairlift sales and installation services. Make sure to check reviews and ratings before choosing a company.

Ask for Recommendations: Ask friends, family, or healthcare professionals for recommendations on reputable stairlift companies in your area. They may have personal experience with companies that they can recommend.

Check with Local Mobility Stores: Local mobility stores may also sell and install stairlifts. Check with stores in your area to see if they offer this service.

Check with Disability Organizations: Disability organizations or advocacy groups in your area may have information on local companies that offer stairlift services.

Contact Manufacturers Directly: Many stairlift manufacturers have a network of dealers and distributors that can help you find stairlifts in your area. Check the manufacturer's website for a list of authorized dealers or distributors.
Remember to compare prices and services from different companies to find the best option for your needs and budget.
---
, by Author

Article title

, by Author

Article title

, by Author

Article title